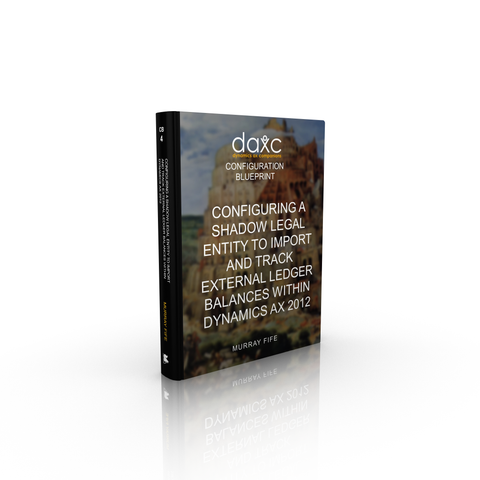 CB.09.AX2012.2.PDF: Configuring a Shadow Legal Entity to Import and Track External Ledger Balances within Dynamics AX 2012 (Second Edition) (Digital)
Configuration Blueprints
Module 09
Although you should be handling all of your business within Dynamics AX, sometime you may find yourself with some external financial systems that you just can't shake free of, or haven't quite got around to migrating the users off in favor of Dynamics AX. This can cause a problem though when it comes to creating consolidated financial reports and also managing intercompany adjustments because they usually have their own ledger that they are reporting to.
Even though you may consider them the red headed stepchild when it comes to Dynamics AX, they don't have to cause you a lot of financial grief because you can quickly set up a bare bones legal entity that will allow you to track all of the account balances and consolidate all of the financials as if they are part of the system already, and also you can easily create an import template that you can load within Excel that will upload all of the balances quickly into Dynamics AX without resorting to using 3rd part import tools or having to write any code to manage the imports.
In this configuration blueprint we will show you how to set up a new legal entity within Dynamics AX that will be used to shadow the ledger accounts and also the minimum configuration that is required to get the ledger up and running. After we have done that we will show you how to build the import template for the journals and also how the import procedure works.
It's super easy to do.
Series: Dynamics AX Configuration Blueprints
Digital: 122 pages
Publisher: Blind Squirrel Publishing (November 15, 2015)
Language: English
---
We Also Recommend
---