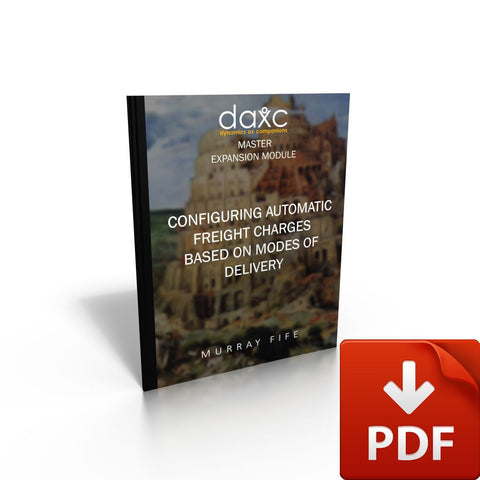 WG.01.AX2012.1.PDF: Configuring Automatic Freight Charges Based On Modes Of Delivery (Digital)
Tips And Tricks
Tip 001
The Charge Codes within Dynamics AX are great ways to add upcharges and adjustments to Sales Orders and Quotations without having to add additional dummy part codes to the system and also without having them clutter up the order lines and make everyone try to decipher what charge is associated with which line.
To make the Charge Codes even better, you can take advantage of the Auto Charge feature that allows you to create rules that will automatically add the Charges to your order header and lines without even lifting a finger. This allows you to have additional surcharges and adjustments automatically show up on the Sales Orders and Quotations which is a great time saver in itself.
You can take the automatic addition of the Charge Codes one step further if you like and link it with the Modes of Delivery that you assign to the Sales Orders and Quotations and have the Freight Charges automatically added based on the method that you are using for the shipment. If you don't have the time or the inclination to use the Transportation Management to do this then it's definitely the second best option for you.
In this guide we will show you how to set up all of the necessary links within Dynamics AX to do just that.
Topics Covered:

Adding Modes of Delivery
Creating a Delivery Charge Code
Creating Automatic Charges Based On Modes of Delivery
Entering a Sales Order with Automatic Freight Charges
More Information:
Series: Dynamics AX Barebones Configuration Guides
Paperback: 56 pages
Publisher: Blind Squirrel Publishing, LLC; 1 edition (September 21, 2015)
Language: English 
---
We Also Recommend
---